The year was 1989, Aragon Amori, Paul Ledney, Brett Makowski and John McEntee joined forces to form a Death Metal act by the name of INCANTATION. Prior to INCANTATION, Aragon and Brett were involved in a band called BLOOD THIRSTY DEATH, while Ledney and McEntee played in REVENANT. Due to artistic differences, Paul, Aragon and Brett left the band to form PROFANATICA the following year. Influenced by such classic cults as VENOM, NECROVORE, SARCOFAGO and BATHORY, the unholy trinity together had a passion to create raw and sacrilegious Black Metal.
In the summer of 1990, they unleashed their first demo entitled
"Putrescence Of..."
After receiving much praise in the underground from this tape, PROFANATICA released a second demo called
"Broken Throne of Christ"
in December of the same year. Brett Makowski was unable to participate in the recording of this demo, so the band recruited an old friend John Gelso to step in on guitar. John was previously involved with Paul in the Black / Death band TOTEN during 1987-1988. Both demo tapes eventually caught the interest of After World Records and PROFANATICA signed a deal with the label. In 1991 they released the infamous
"Weeping In Heaven"
7" EP, strictly limited to 500 hand-numbered copies. Following the success of this EP, After World chose to re-release it on cassette with two bonus live tracks the following year. Also in 1992, the band signed a deal with the French Osmose Productions (a fairly new and uprising label at the time) to release the
"Tormenting Holy Flesh"
split 12" LP/CD with the Colombian band MASACRE.
During this time, PROFANATICA extensively toured the North Eastern United States, often shocking many with their sick and blasphemous live act. As the end of the year approached, both guitarists officially left the band. Paul and Aragon invited their close comrade Wicked Warlock of Demonic Blasphemy (these days known as Ixithra) of the band DEMONCY, to perform the guitar work. The three of them played one gig together, and were planned to participate in an American Black Metal festival that Halloween appearing with ORDER FROM CHAOS, VITAL REMAINS, ACHERON, etc. However, this gathering unfortunately never took place. Instead, they entered the studio together to record a full-length PROFANATICA release initially entitled
"The Raping Of The Virgin Mary."
Sadly, the master tapes of these recordings were destroyed in the studio (there are conflicting stories about this), and the band parted ways quickly after. By then Osmose Productions had also re-released the bands first demo on a 7" EP entitled
"As Tears Of Blood Stain The Altar Of Christ"
.
Paul formed HAVOHEJ in 1993 with some assistance from Brett Makowski on bass and guitars. Aragon pursued his Black / Death project CONTRIVISTI with Gelso until his untimely death in April of 1996, and Wicked Warlock continued on with DEMONCY, who are still very much active in the American Black Metal underground to this day.
In 1999 the underground U.S. cult label Samhain Productions broke silence with the
"Unholy Masters of Darkness"
split 7" EP with Singaporean cult IMPIETY. This limited pressing of only 600 copies featured unreleased tracks from a 1991 rehearsal and the final studio sessions.
By early 2001, Paul Ledney recruited two new members and resurrected the black cult of PROFANATICA. Paul soon released on his own label Necroscope Productions, the "Live" CD consisting of three PROFANATICA performances from 1991-1992. This same year, the now defunct War Hammer Records released the "Collection" on CD and a 12" Picture Disc edition under Necroscope Productions soon followed. Shortly after the band had recorded two brand new blasphemies and released the "Broken Jew/Fuck the Messiah" 7" EP on Metal War Productions in 2002.
A 7" single crowned "Passion Of A Liar" was also recorded and to be unleashed on Supreme Art Productions although never surfaced. Since the return of PROFANATICA not much activity had occurred and during this silence Paul formed CROWNED IN SEMEN which is defined as "Profanatica Style Black Metal" & have issued a split 7" with TYPHUS under Dark Horizon Records.
By 2006 the black cult forged a pact with Hells Headbangers Records and ejaculated "The Enemy of Virtue" 12" LP. This double LP set featured all of the bands work up until that time, including the unreleased "Passion Of A Liar" 7" single, an obscure rehearsal of TOTEN cover songs, and the bands first performance in nine years at "The Return of Darkness and Evil Festival" in Clifton, New Jersey. The response to the LP set was immense and quickly sold out in 2,000 copies with various collectable editions.
2007 was a groundbreaking year; the band unleashed their much awaited & overdue debut full-length studio album entitled
"Profanatitas De Domonatia."
Easily the best fucking Black Metal album of the year,
"Profanatitas..."
featured 10 brand new hymns and was presented in a luxurious fashion on CD, LP and Picture LP formats via Hells Headbangers. Later this same year
"The Enemy of Virtue"
was issued as a double CD set under the same label. A single disc digipak CD was also circulated by the short-lived record label Invocation Records (formerly known as War Hammer Records) in a strict limited quantity of 1,000 pieces.
Early 2008 saw the release of the bands first ever DVD documenting the shocking & legendary Profanatica performances throughout the early 90's in the North Eastern United States. This double DVD set presented by Deathgasm & Negative Existence Records was also entitled
"The Enemy of Virtue"
and featured the controversial and much gossiped 1992 interview. A few months later year Gasmask Productions in France featured two new Profanatica songs on the vinyl only
"Trampling the Holy Faith"
4-way split LP with Nuclear Desecration, Unholy Crucifix and GoatSodomy
Up to this point, live activity had ceased for nearly seven years until the black cult crushed the stage in the scorching hell of Texas at the "Sacrifice of the Nazarene Child Fest IX" on June 21, 2008. Despite some drama surrounding this performance the bands' reeking black filth destroyed the crowd. Come October another performance was made in Clifton, NJ although proved to be not so notable due to several unforeseen variables. For these live performances Ledney & Gelso had recruited two session members (Alex Cox - bass, Blake Jones - drums) and in preparation had recorded a "live in the studio" session known today as "The Grand Masters Session."
The creative momentum of the two years prior had led Ledney and Gelso to form yet another project known as PALLID SAVIOR although the final material proved to better suit another Profanatica album bluntly entitled
"Disgusting Blasphemies Against God."
Thus, Pallid Savior was placed on the back burner and "DBAG" was fully complete by May of 2009 although shelved while Ledney focused on the definite HAVOHEJ album
"Kembatinan Premaster"
and Gelso collaborated with KRIEG's N. Imperial for a side project christened THE ROYAL ARCH BLASPHEME.
Come 2010 the band had reached their 20th year anniversary and by February after several months of manufacturing delays Hells Headbangers released the glorious "The Grand Masters Session" triple 8" Box Set recorded two years prior. Desecration of God Productions unearthed an even older rehearsal session from 1990/1991 entitled "The Years of Pestilence" on 7" EP and by Novisible Scars on Cassette with bonus tracks.
By now, the time was right to unleash the highly anticipated second album "Disgusting Blasphemies Against God" which saw the black light of day on August 31, 2010 by Hells Headbangers on both CD & Vinyl formats. Currently the band remains restless and further new material and select live performances are to be expected.
"PUTRESCENCE OF..."
Demo I
1990




1. Raping Of Angels
2. Final Hour Of Christ

___________________________

"OFFICIAL REHEARSAL TAPE"
1990

1. Raping Of Angels
2. Final Hour Of Christ


___________________________

"BROKEN THRONE OF CHRIST"
Demo II
1990




1. Of Pestilence
2. Scourging And Crowning
3. Weeping In Heaven

___________________________

"WEEPING IN HEAVEN"
7" EP
(Afterworld Records, 1991)




1. Heavenly Father
2. Weeping In Heaven

___________________________

"WEEPING IN HEAVEN"
Cassette EP
(Afterworld Records, 1992)

1. Weeping In Heaven
2. Heavenly Father
3. Scourging And Crowning *
4. Final Hour Christ *
*Recorded live in Norwalk, Connecticut, 03/02/91

___________________________

"TORMENTING HOLY FLESH"
SPLIT LP / CD WITH MASACRE
(Osmose Productions, 1992)

1.Spilling Holy Blood
2. Final Hour Of Christ
3. Weeping In Heaven
4. I Arose....

___________________________

"AS TEARS OF BLOOD STAIN THE ALTAR OF CHRIST"
7"EP
(Osmose Productions, 1993)




1.Raping Of Angels
2. Final Hour Of Christ
3. Of Pestilence *
*This is a misprint, as the actual demo does not have this track.
This is the exact same recording as the "Putrescence of..." demo

___________________________

"UNHOLY BLACK DEATH"
SPLIT 7" EP WITH IMPIETY
(Samhain Productions, 1999)




1. Weeping In Heaven *
2. Crucifixion Wounds **
3. Mary (Conceived With Sin) **
*Taken from a rehearsal in 1991
** Taken from unreleased final studio sessions

___________________________

"SOMBER CORPSE MUSIC"
Bootleg Cassette

1. Spilling Holy Blood
2. Final Hour Of Christ
3. Weeping In Heaven
4. I Arose
5. Of Pestilence
Live in Brookfield, Connecticut, 01/04/92

___________________________

"LIVE" CD
(Necroscope Productions, 2001)




consists of three live PROFANATICA performances from 1991-1992

___________________________

"COLLECTION"
CD
(War Hammer Records, 2001)




1. Raping Of Angels
2. Final Hour Of Christ
3. Of Pestilence
4. Scourging And Crowning
5. Weeping In Heaven
6. Weeping In Heaven
7. Heavenly Father
8. Spilling Holy Blood
9. Final Hour Of Christ
10. Weeping In Heaven
11. I Arose
12. As Tears Of Blood Stain The Altar Of Christ
13. Crucifixion Wounds
14. Once Removed Savior (a.k.a. Disease Infested Cunts Of Dead Nuns)
15. Mary (Conceived With Sin)
16. Jehovah Fading

Tracks1-2 taken from "Putrescence Of..." demo 1990
Tracks 3-5 taken from "Broken Throne Of Christ" demo 1990
Tracks 6-7 taken from "Weeping In Heaven" 7" EP 1991
Tracks 8-11 taken from "Tormenting Holy Flesh" split with MASACRE 1992
Tracks 12-16 taken from final studio sessions 1992 (previously unreleased)

___________________________

"COLLECTION"
12" PICTURE DISC
(Necroscope Productions, 2002)




Same track listing as CD version.

___________________________

"BROKEN JEW"
7" EP
(Metal War Productions, 2002)




1. Broken Jew
2. Fuck The Messiah

___________________________

"THE ENEMY OF VIRTUE"
12" 2LP: Hells Headbangers Records, 2006
DIGIPAK CD: Invocation Records, 2007
JEWEL CASE CD: Hells Headbangers Records, 2007




___________________________

"PROFANATITAS DE DOMONATIA"
CD, LP, PIC LP
Hells Headbangers Records, 2007




1. Master of Man Absolute
2. Unto Us He Is Born
3. Mocked Scourged and Spit Upon
4. Scourging and Crowning
5. God Dethroned in Heaven
6. Cursed Nazarene Whore
7. Palid Savior
8. Profanation of The Gods
9. Them That Dwell In Heaven
10. Betrayal of The Lamb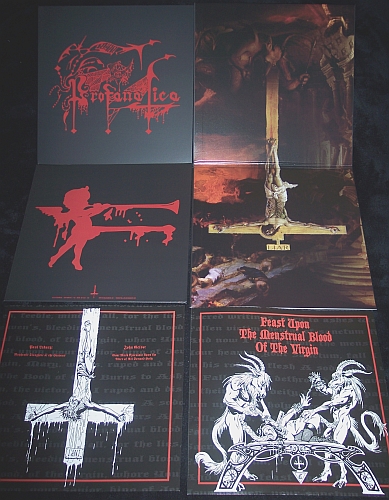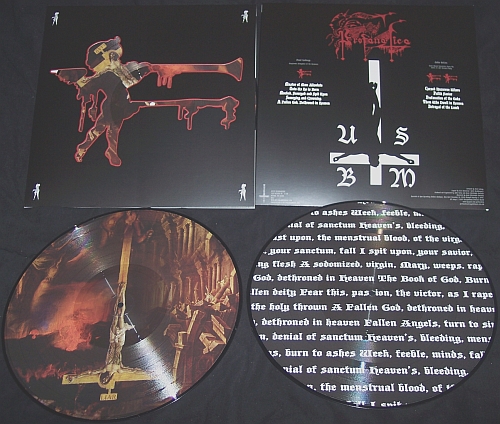 ___________________________

"TRAMPLING THE HOLY FAITH"
12" LP
(Gasmask Productions, 2008)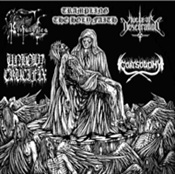 1. Eucharist Vomitous
2. Turn Away God
+Tracks from GoatSodomy, Nuclear Desecration & Unholy Crucifix

___________________________

"THE YEARS OF PESTILENCE"
7" EP
(Desecration of God Productions, 2010)
CASSETTE
(Novisible Scars, 2010)




1. Weeping in Heaven
2. Tormenting Holy Flesh
3. Of Pestilence
4. Raping of Angels
5. Final Hour of Christ

___________________________

"THE GRAND MASTER SESSIONS"
8" EP BOX SET (3 records)
(Hells Headbangers Records, 2010)




1. Intro
2. Medley (Spilling Holy Blood/I Arose/Final Hour of Christ/Heavenly Father/Scourging and Crowning)
3. Crucifixion Wounds
4. Conceived With Sin
5. Once Removed Savior
6. Of Holy Sacrament and Semen
Master of Man Absolute
7. Unto Us He Is Born
8. Mocked Scourged And Spit Upon
9. Weeping In Heaven

___________________________

"DISGUSTING BLASPHEMIES AGAINST GOD"
CD, LP, PIC LP
(Hells Headbangers Records, 2010)




1. Black Cum
2. Pious Piece Of Shit
3. Christs Precious Blood Poisoned
4. Smashing Religious Fucking Statues
5. Fuck The Blood Of The Lamb
6. Covered In Black Shit
7. No Trumpet Shall Sound
8. Crush All That Is Holy Defile
9. Excrement Sacrosanct,
10. Angel With Cock
11. Once Removed Savior (vinyl only bonus track)

___________________________